Native Plant Communities
---
Coastal Grassland
Coastal grasslands are in flat areas with sand substrates. They range from xeric to mesic. They may be subtropical or temperate. These grasslands are characterized by periodic fires. The vegetation is varied but dominated by grasses, herbs, and shrubs with or without slash pine (Pinus elliottii) and/or cabbage palm (Sabal palmetto).
References:
Florida Department of Environmental Protection. 1992. Soil and Water Relationships of Florida's Ecological Communities http://www.dep.state.fl.us/water/wetlands/delineation/docs/soil-and-water.pdf
Duever, L.C. 1986. Florida's Natural Communities: Overwash Plains and Coastal Berms. The Palmetto 6:10-11. http://fnps.org/assets/pdf/palmetto/v06i1p10duever.pdf
Florida Natural Areas Inventory (FNAI). 2010. Guide to the natural communities of Florida: 2010 edition. Florida Natural Areas Inventory, Tallahassee, FL. http://fnai.org/naturalcommguide.cfm
Gann, G.D., K.A. Bradley, and S.W. Woodmansee. 2009. Floristic Inventory of South Florida Database. Institute for Regional Conservation. http://regionalconservation.org/ircs/database/database.asp
Knight, G. R., J. B. Oetting, and L. Cross. 2011. Atlas of Florida's Natural Heritage - Biodiversity, Landscapes, Stewardship and Opportunities: Institute of Science and Public Affairs, Florida State University, Tallahassee, FL.
Myers, R.L. and J.J. Ewel (eds.). 1990. Ecosystems of Florida University of Central Florida Press: Orlando.
Noss, R. F. 2013. Forgotten Grasslands of the South - Natural History and Conservation. Island Press, Washington.
USDA Soil Conservation Service. 198?. 26 Ecological Communities of Florida. http://ufdc.ufl.edu/UF00000110/00001
Whitney, E.N., D. B. Means, A. Rudloe. 2004. Priceless Florida: Natural Ecosystems and Native Species. Pineapple Press.
Date Updated 0000-00-00 00:00:00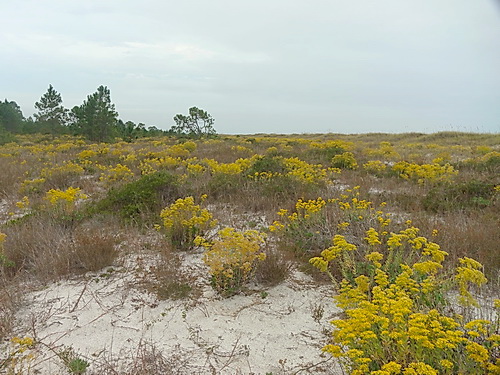 Coastal grassland near Windmark Beach, Florida panhandle. Photo by Shirley Denton.

Coastal grassland, Mexico Beach, Florida panhandle.