Native Plant Communities
---
Dome Swamp
Synonyms: Cypress Dome
Dome swamps occupy rounded depressions in areas with sand or limestone substrates. Peat typically accumulates toward center. They are seasonally inundated and have still water. They are found in subtropical and temperate settings. Occasional or rare fire is characteristic. Typical vegetation includes cypress (Taxodium ascendens), blackgum (Nyssa sylvatica var. biflora) in the center often with bays (Magnolia virginiana, Gordonia lasianthus, Persea palustris and swamp laurel oak (Quercus laurifolia) in a short-hydroperiod band near the edge. Dome swamps often have the tallest trees in the center, a feature usually assocated with more frequent fires near the outer perimeter.
References:
Florida Department of Environmental Protection. 1992. Soil and Water Relationships of Florida's Ecological Communities http://www.dep.state.fl.us/water/wetlands/delineation/docs/soil-and-water.pdf
Duever, Linda. 1985 (Spring). Florida's Natural Communities: Cypress Swamps. The Palmetto 5, #1:4-5. http://fnps.org/assets/pdf/palmetto/duever_linda_conway_natural_communities_of_floridas_cypress_swamps_vol_5_no_1_spring_1985.pdf
Florida Natural Areas Inventory (FNAI). 2010. Guide to the natural communities of Florida: 2010 edition. Florida Natural Areas Inventory, Tallahassee, FL. http://fnai.org/naturalcommguide.cfm
Gann, G.D., K.A. Bradley, and S.W. Woodmansee. 2009. Floristic Inventory of South Florida Database. Institute for Regional Conservation. http://regionalconservation.org/ircs/database/database.asp
Myers, R.L. and J.J. Ewel (eds.). 1990. Ecosystems of Florida University of Central Florida Press: Orlando.
Simons, R.W. 1990. Terrestrial and freshwater habitats. Pages 99-157 in S.H. Wolfe, editor. An ecological characterization of the Florida Springs Coast: Pithlachascotee to Waccasassa Rivers. Biological Report 90(21). United States Fish and Wildlife Service, Washington, DC.
USDA Soil Conservation Service. 1986. 26 Ecological Communities of Florida. http://ufdc.ufl.edu/UF00000110/00001
Whitney, E.N., D. B. Means, A. Rudloe. 2004. Priceless Florida: Natural Ecosystems and Native Species. Pineapple Press.
Date Updated 2020-05-18 12:21:11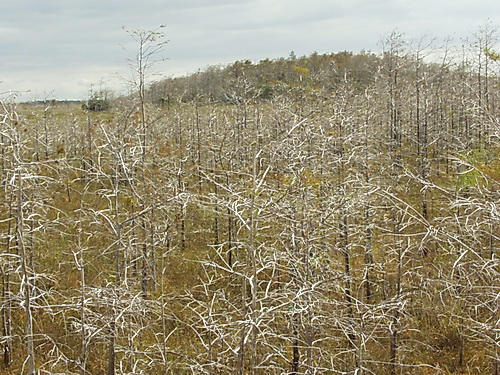 Cypress dome (rear) with dwarf cypress in front, Big Cypress National Preserve, Collier County. Image by Shirley Denton

Trees with bromeliads in cypress dome in Big Cypress National Preserve. Photo by Shirley Denton.

Interior of cypress dome, Pasco County. Photo by Shirley Denton.