Native Plant Communities
---
Spring Run Stream
Perennial watercourse with deep aquifer headwaters and characterized by clear water, circumneutral pH.
Species associated with spring run streams include Florida willow, spring-run spiderlily, and yellow waterlily.
Examples include the Waccasassa River, the St. Marks River, Boiling Creek (Eglin AFB), Titi Creek (Eglin AFB), Holmes Creek, and Shoal River. Several are home to rare plants.
References:
Clewell, A.F. 1986. Natural setting and vegetation of the Florida Panhandle - An account of the environments and plant communities of northern Florida west of the Suwannee River. Report No. COESAM/PDEI-86/001. United States Army Corps of Engineers, Mobile District, Alabama.
Duever, Linda. 1984 (September). Florida's Natural Communities: Floodplains. The Palmetto 4, #3:8-10. http://fnps.org/assets/pdf/palmetto/duever_linda_conway_natural_communities_of_floridas_floodplains_vol_4_no_3_fall_1984.pdf
Florida Natural Areas Inventory (FNAI). 2010. Guide to the natural communities of Florida: 2010 edition. Florida Natural Areas Inventory, Tallahassee, FL. http://fnai.org/naturalcommguide.cfm
Myers, R.L. and J.J. Ewel (eds.). 1990. Ecosystems of Florida University of Central Florida Press: Orlando.
Simons, R.W. 1990. Terrestrial and freshwater habitats. Pages 99-157 in S.H. Wolfe, editor. An ecological characterization of the Florida Springs Coast: Pithlachascotee to Waccasassa Rivers. Biological Report 90(21). United States Fish and Wildlife Service, Washington, DC.
Whitney, E.N., D. B. Means, A. Rudloe. 2004. Priceless Florida: Natural Ecosystems and Native Species. Pineapple Press.
Date Updated 2020-05-17 11:52:01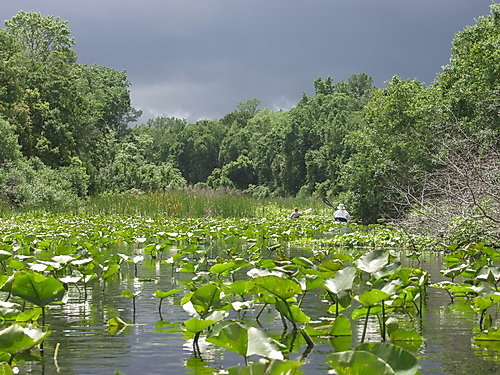 Rock Springs Run, a spring-run stream in Orange County. Image by Shirley Denton.
Spring Run Stream - Chassahowitzka (upper Potter Creek). Image by Shirley Denton.