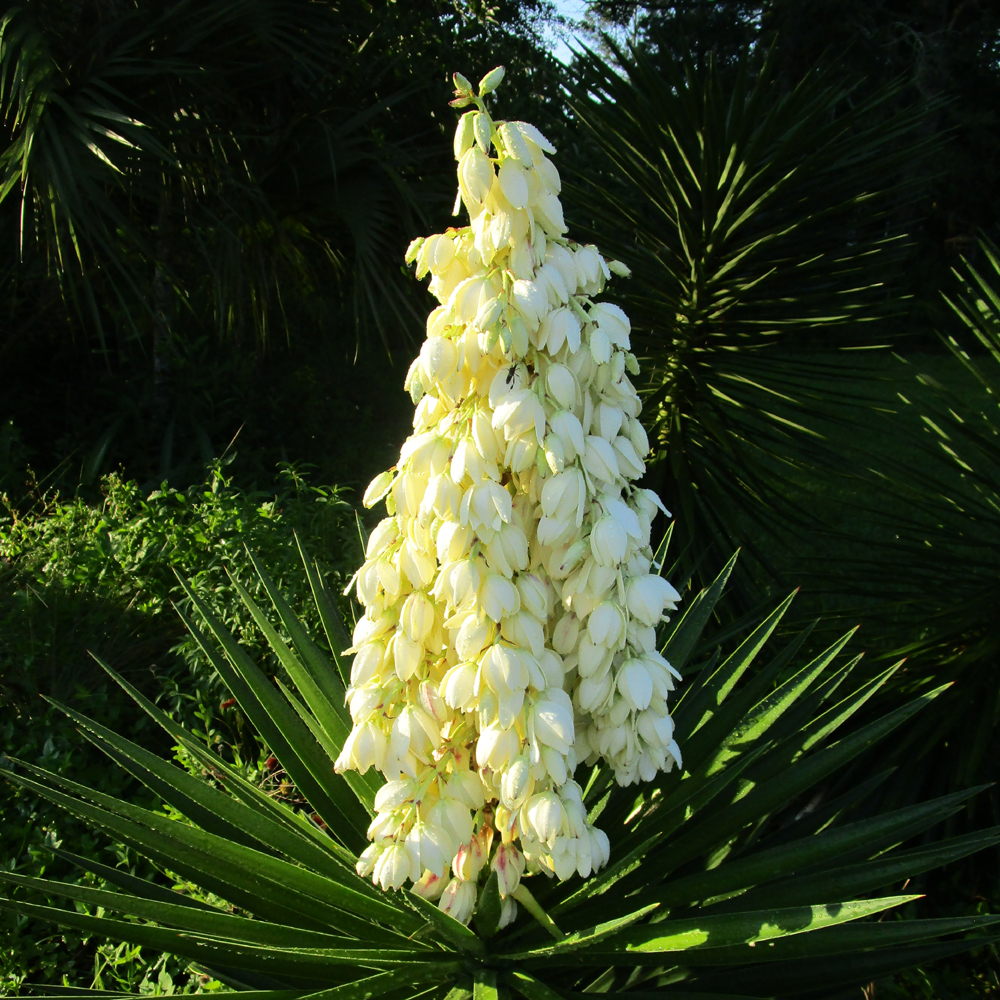 Residential setting. © Ginny Stibolt
© Ginny Stibolt
© Shirley Denton
© Shirley Denton
Roadside. © Shirley Denton
Previous
Next
Photographs belong to the photographers who allow use for FNPS purposes only. Please contact the photographer for all other uses.
Spanish Bayonet, Aloe Yucca
Agavaceae
Plant Specifics
Form:
Shrub
Size:
5-10 ft tall by 3-6 ft wide
Life Span:
Long-lived perennial
Flower Color:
White
Fruit Color:
Green
Phenology:
Evergreen
Noted for:
Showy flowers, Showy fruits, Interesting foliage
Landscaping
Recommended Uses:
Specimen plant. Hedge--makes a good barrier.
Considerations:
Leaves have very sharp tips.
Propagation:
Seed. Division though avoid those sharp leaves!
Availability:
Native nurseries, Seed
Light:
Full Sun, Part Shade
Moisture Tolerance:

always floodedextremely dry

(Somewhat moist, no flooding ----- to ----- Very long very dry periods)
Moisture Tolerance:
Somewhat moist, no flooding ----- to ----- Very long very dry periods
Salt Water Flooding Tolerance:
Tolerant of inundation with brackish water
Salt Spray/ Salty Soil Tolerance:
Some tolerance to salty wind but not direct salt spray.
Soil or other substrate:
Sand
Soil pH:
Ecology
Wildlife:

Provides wildlife cover

Insects:

Provides food and cover for wildlife.Larval host plant for cofaqui giant skipper (Megathymus cofaqui) and yucca giant skipper (Megathymus yuccae) butterflies.

Pollinated by yucca moths.

Nectar plant for great southern white (Ascia monuste) and other butterflies.

Native Habitats:
Wet flatwoods, sand dunes, disturbed sites.
Distribution and Planting Zones
Natural Range in Florida
USDA Zones
Suitable to grow in:
10A 10B 11 8A 8B 9A 9B
USDA zones are based on minimum winter temperatures
Comments
| | | |
| --- | --- | --- |
| Ethnobotany: | The flowers can be served as a salad or cooked and the fruit is eaten in some cultures. Pioneers made rope and string from the fibrous leaves. | |