© John Bradford
2015 FNPS Landscape Award (Residential) © Mary Ellen Gotto
© Mark Hutchinson
© Mark Hutchinson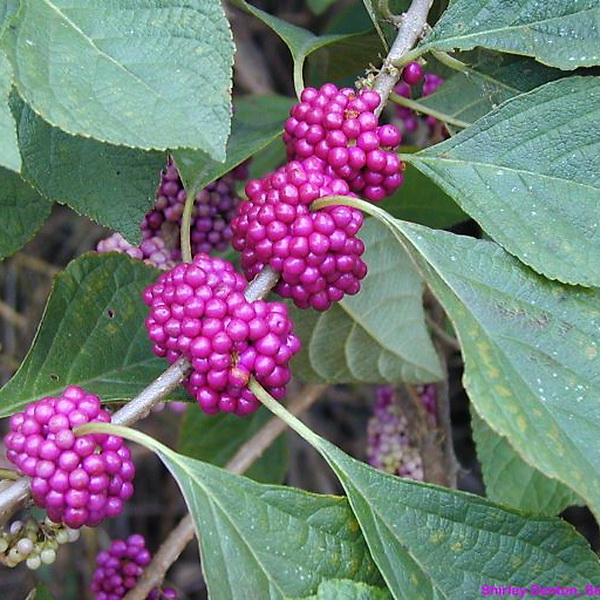 © Shirley Denton
© Ginny Stibolt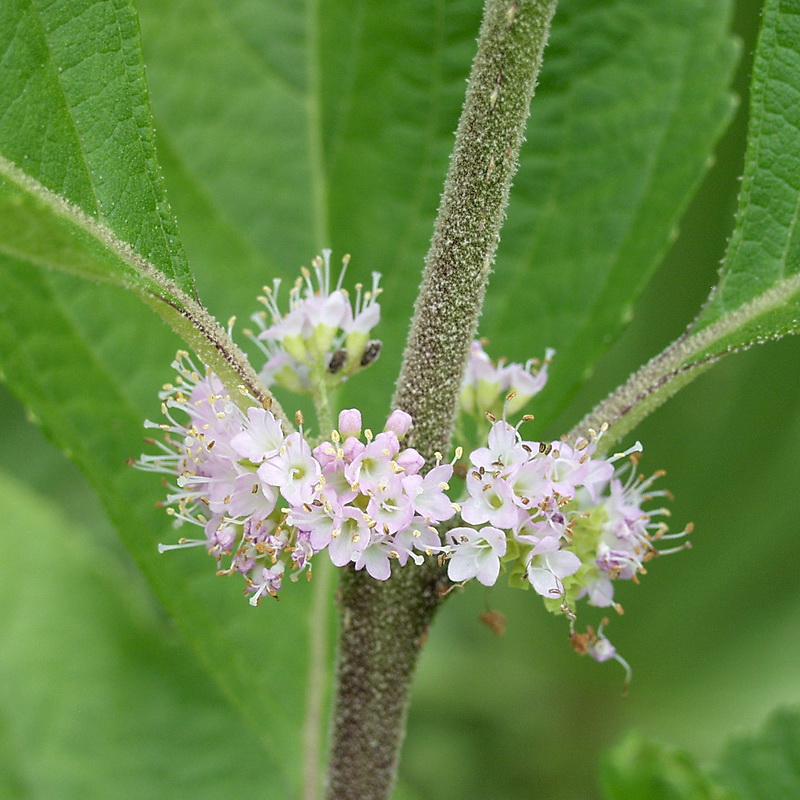 © Shirley Denton
Previous
Next
American Beautyberry
Lamiaceae (Labiatae)
Plant Specifics
Form:
Shrub
Size:
4-8 ft tall by 3-6 ft wide
Life Span:
Long-lived perennial
Flower Color:
White,pink
Fruit Color:
White,purple
Phenology:
Noted for:
Showy flowers, Showy fruits, Hurricane wind resistance
Landscaping
Recommended Uses:

Specimen plant, mass planting, casual shrub screen

Propagation:

Seed.

Availability:
Native nurseries, FNPS plant sales, Quality nurseries, Seed
Light:
Full Sun, Part Shade
Moisture Tolerance:

always floodedextremely dry

(Usually moist, occasional inundation ----- to ----- Somewhat long very dry periods)
Moisture Tolerance:
Usually moist, occasional inundation ----- to ----- Somewhat long very dry periods
Salt Water Flooding Tolerance:
Not salt tolerant of inundation by salty or brackish water.
Salt Spray/ Salty Soil Tolerance:
Low/no tolerance of salty wind or direct salt spray
Soil or other substrate:
Loam, Sand
Soil pH:
5.2 - 7.0
Ecology
Wildlife:

Many bird species consume the showy fruit.

Insects:

Larval host for for spring azure butterflies and snowberry clearwing moths.

Attracts various pollinators, especially bees. Documented bees include Agapostemon splendens, Augochlora pura, Dialictus placidensis, Halictus ligatus, Megachile brevis pseudobrevis and the none-native Apis mellifera (honeybee) (Deyrup et al. 2002).

Native Habitats:

Dry mesic hardwoods, xeric hammock, scrubby flatwoods, flatwoods, disturbed dry-moist woods.
Distribution and Planting Zones
Natural Range in Florida
USDA Zones
Suitable to grow in:
10A 10B 8A 8B 9A 9B
USDA zones are based on minimum winter temperatures
Comments
Ethnobotany:

Sometimes used to make jelly which is noted for its color.

There are three chemicals in the leaves that may be as effective as DEET as an insect repellant ((Cantrell et al. 2005; Cantrell & Klun 2011). One, callicarpenal, apparently deters biting by the yellow-fever mosquito and the mosquito that spreads malaria. Callicarpenal and other compounds isolated from the plant also repell fire ants and ticks.

General Comments:

Fruits are magenta. There is a white-fruited/white-flowered variety, uncommonly found naturally in Florida, that is sold occasionally.