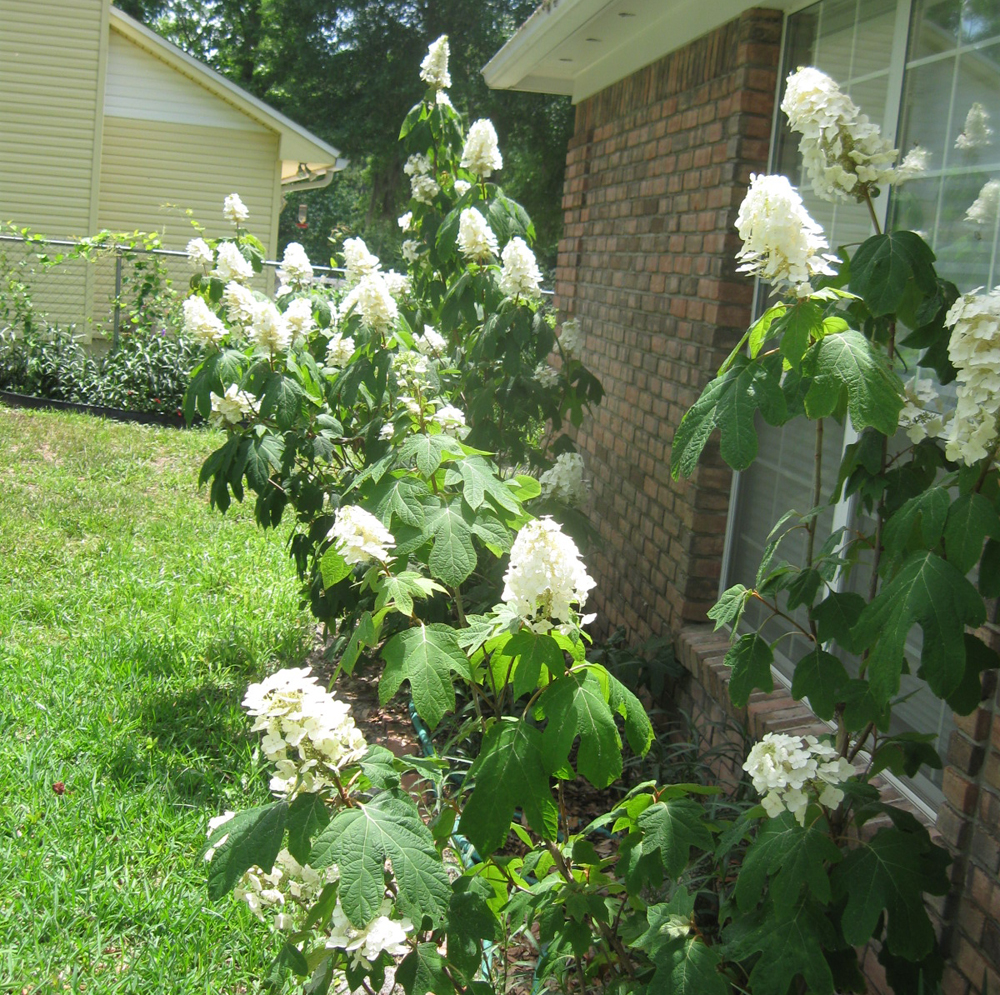 © Ginny Stibolt
© unattributed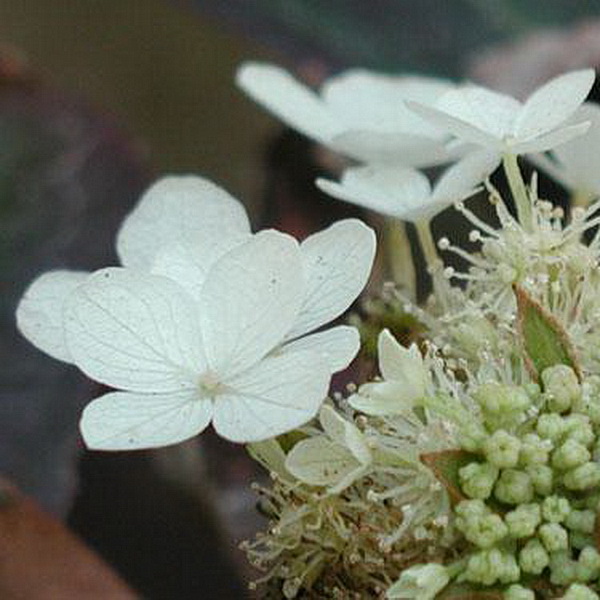 © Susan Trammel
© Mark Hutchinson
© Mark Hutchinson
© Mark Hutchinson
Previous
Next
Oak-leaf Hydrangea
Hydrangeaceae
Plant Specifics
Form:
Shrub
Size:
2.5 to 12 ft tall by 2.0 to 5.0 ft wide
Life Span:
Long-lived perennial
Flower Color:
White
Fruit Color:
Brown
Phenology:
Deciduous
Noted for:
Interesting bark, Showy flowers, Interesting foliage
Landscaping
Recommended Uses:
Specimen tree in understory setting.
Considerations:
Prefers partial shade. If planted south of its natural range, it is best to keep it out of full sun.
Propagation:
Softwood cuttings can be rooted by dusting the cutting with root hormone, then removing most of the fully developed leaves, cutting the remaining developed leaves in half. Place the cutting in a potting mix and tent the entire moistened assembly with a thin plastic (produce), bag. Keep the bag in place and moist until rooting occurs. Air layering is another effective way to propagate. It will also colonize using underground stolons.
Availability:
Native nurseries, FNPS plant sales
Light:
Part Shade, Shade
Moisture Tolerance:

always floodedextremely dry

(Usually moist, occasional inundation ----- to ----- Not wet but not extremely dry)
Moisture Tolerance:
Usually moist, occasional inundation ----- to ----- Not wet but not extremely dry
Salt Water Flooding Tolerance:
Not salt tolerant of inundation by salty or brackish water.
Salt Spray/ Salty Soil Tolerance:
Low/no tolerance of salty wind or direct salt spray
Soil or other substrate:
Clay, Loam, Sand
Soil pH:
4.5 to 7.4
Ecology
Wildlife:

Insects:

Attracts native bees including bumblebees, syrphid flies, and honeybees.
Pollinators attracted to the small fertile flowers (the large flowers are sterile) (Coleen Miko).

Native Habitats:
Dry-moist sites. Upland hardwood forests and understory.
Distribution and Planting Zones
Natural Range in Florida
USDA Zones
Suitable to grow in:
8A 8B 9A 9B
USDA zones are based on minimum winter temperatures
Comments
General Comments:

The bark of oakleaf hydrangea exfoliates and is very beautiful. The leaves turn a variety of vivid colors prior to dropping in winter.

Based on the description on the herbarium sheet, the Florida Atlas documentation for Aachua County appears to be a plants or plants persisting at an old home site.