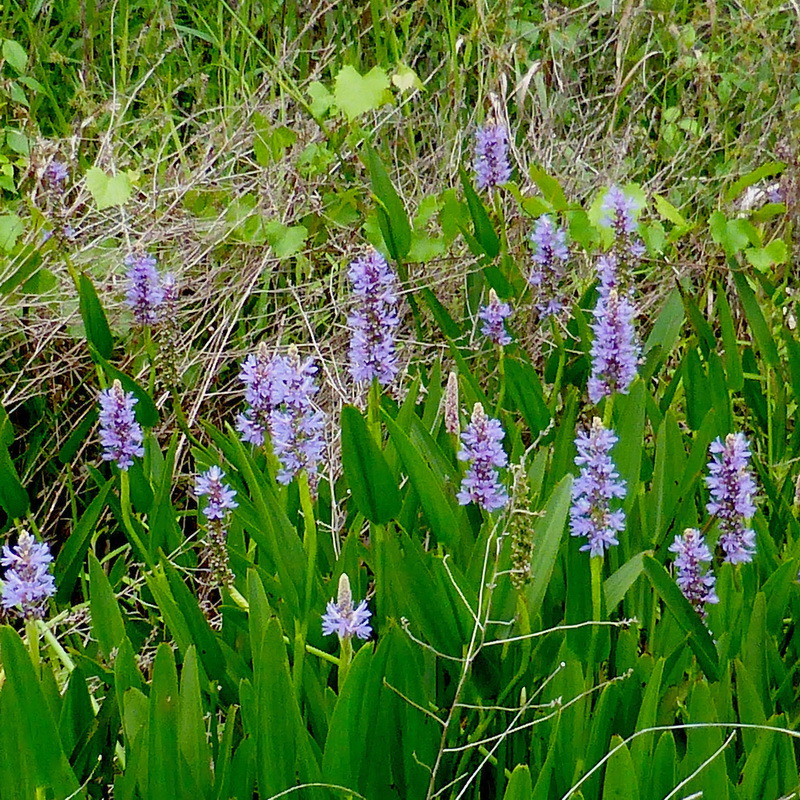 © Eleanor Dietrich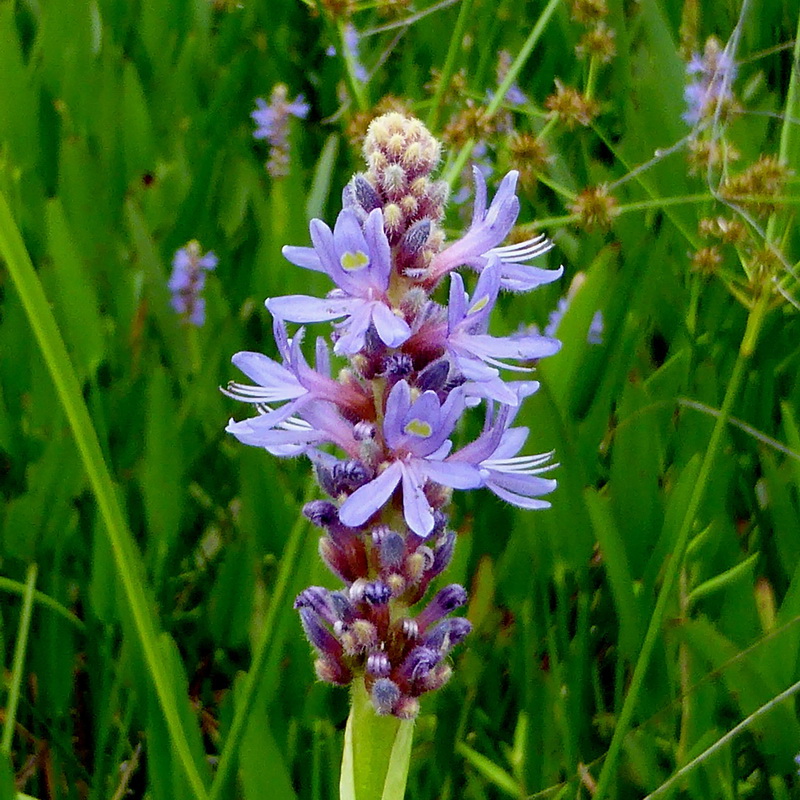 © Eleanor Dietrich
Surface water management pond © Shirley Denton
Growing naturally on edge of lake. © Shirley Denton
Previous
Next
Pickerelweed
Pontederiaceae
Plant Specifics
Form:
Flower
Size:
to 3 ft
Life Span:
Long-lived perennial
Flower Color:
Purple
Fruit Color:
Phenology:
Winter dormant
Noted for:
Showy flowers, Interesting foliage
Landscaping
Recommended Uses:
Wetland gardens and pond edges. Used in wetland restoration.
Propagation:
Division of clumps.
Availability:
Native nurseries, Specialty providers
Light:
Full Sun, Part Shade
Moisture Tolerance:

always floodedextremely dry

(Aquatic (always flooded) ----- to ----- Stays Wet)
Moisture Tolerance:
Aquatic (always flooded) ----- to ----- Stays Wet
Salt Water Flooding Tolerance:
Not salt tolerant of inundation by salty or brackish water.
Salt Spray/ Salty Soil Tolerance:
Low/no tolerance of salty wind or direct salt spray
Soil or other substrate:
Pond, lake, or stream bottom, Organic material (muck)
Soil pH:
Ecology
Wildlife:

Ducks love the plants and a risk is that they might devour an entire planting.

Insects:

Attracts butterflies and bees. Documented bee visitors include Hylaeus schwarzi, Dianthidiuin floridiense, Ceratina dupla floridaiza, Apis inellifera, and Xylocopa inicaizs (Deyrup et al. 2002).

Native Habitats:
Marshes, swamps, slow moving streams.
Distribution and Planting Zones
Natural Range in Florida
USDA Zones
Suitable to grow in:
10A 10B 8A 8B 9A 9B
USDA zones are based on minimum winter temperatures
Comments
| | | |
| --- | --- | --- |
| Ethnobotany: | Seeds are edible | |
| General Comments: | The natural range in Florida appears to include the entire mainland and exclude the Florida keys. Herbarium specimen in the Florida Keys was in a man-made pond leading to the suspicion that the plant was brought in by man and that the keys are not within the natural range of the species. The counties where the plant has not been documented are well within the range of the species and have ample habitats to support this common species (this author has seen it in most of those counties). | |