© Shirley Denton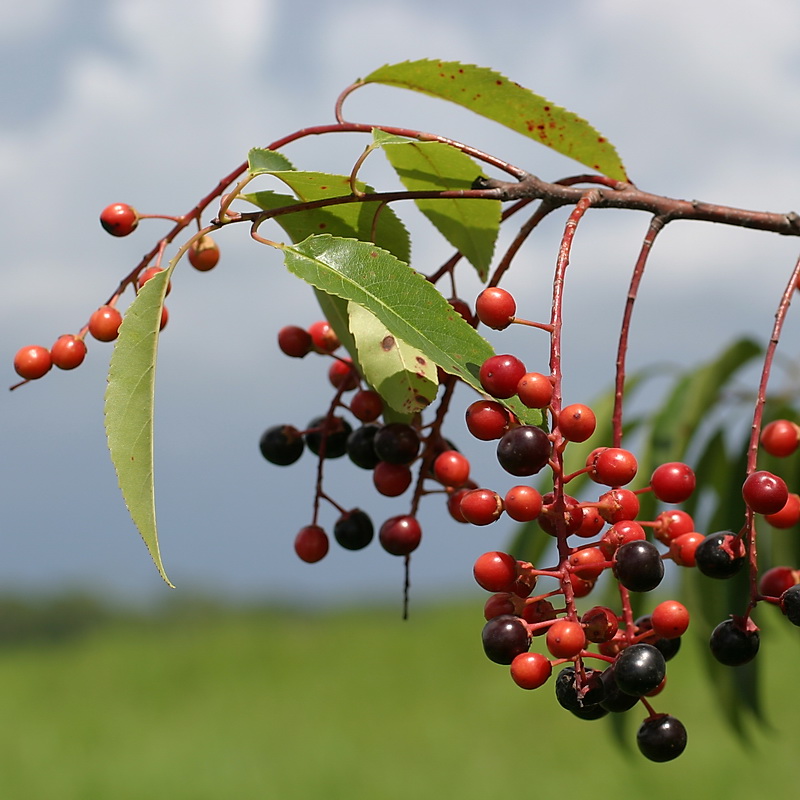 © Shirley Denton
© Shirley Denton
© Shirley Denton
© Shirley Denton
© Shirley Denton
Previous
Next
Black Cherry
Rosaceae
Plant Specifics
Form:
Tree
Size:
To 70 ft
Life Span:
Long-lived perennial
Flower Color:
White
Fruit Color:
Black
Phenology:
Deciduous
Noted for:
Fall color, Showy flowers
Landscaping
Recommended Uses:
Shade tree. Useful for informal reforestation of old grove land.
Considerations:
Leaves and twigs are highly poisonous to livestock, pets and humans.
Propagation:
Availability:
Seed
Light:
Full Sun, Part Shade
Moisture Tolerance:

always floodedextremely dry

(Somewhat moist, no flooding ----- to ----- Very long very dry periods)
Moisture Tolerance:
Somewhat moist, no flooding ----- to ----- Very long very dry periods
Salt Water Flooding Tolerance:
Not salt tolerant of inundation by salty or brackish water.
Salt Spray/ Salty Soil Tolerance:
Moderate. Tolerant of salty wind and may get some salt spray. Exposure to salt spray would be uncommon (major storms).
Soil or other substrate:
Loam, Sand
Soil pH:
Adaptable
Ecology
Wildlife:

Birds and other animals eat the fruits. Birds are the primary disperser into old fields and hedge rows.

Insects:

Bees are pollinators.

Native Habitats:
Dry sites. Upland mixed forest, upland hardwood forest, secondary woods, old fields, sandhill, ruderal areas.
Distribution and Planting Zones
Natural Range in Florida
USDA Zones
Suitable to grow in:
8A 8B 9A 9B
USDA zones are based on minimum winter temperatures
Comments
Ethnobotany:
Can make jelly from the pitted fruit.
General Comments:

The range of Prunus serotina includes most of eastern North America as far north as southern Canada. It extends west into Texas and there are spotty occurrences as far west as Arizona. In Florida, the range appears to be continuous as far south as the central peninsula after which it disappears, a pattern generally associated with temperature. This species should grow well down to the central peninsula.

Some people consider this to be a weed tree. This author has it in my "field" where it is thriving and very welcome. It is an early successional tree, but not a problem plant. The tree lis an important component of deciduous forests in north Florida and eastern North America.