© Shirley Denton
© Eleanor Dietrich
© unattributed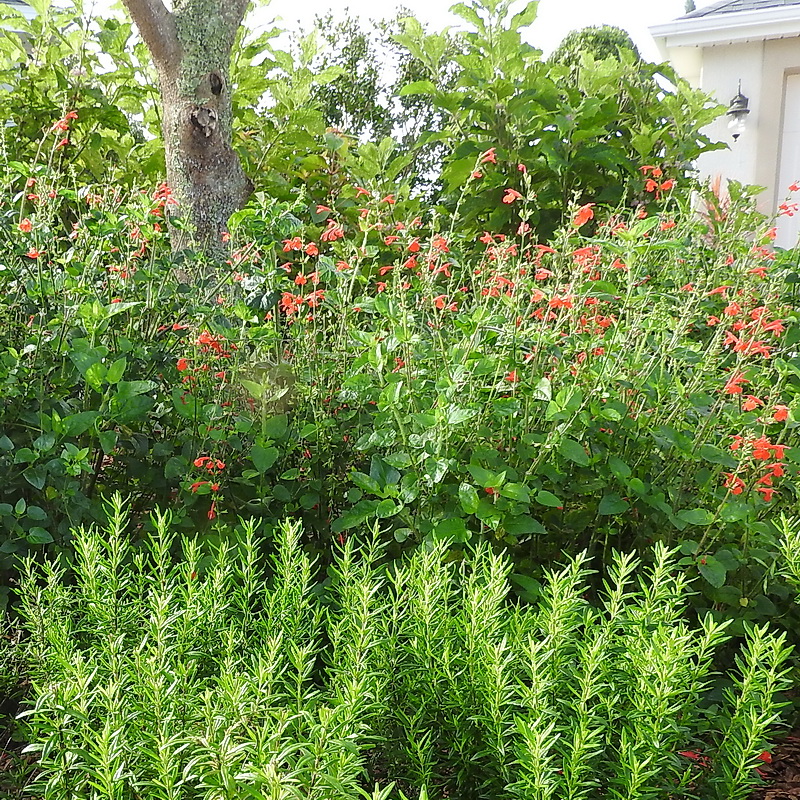 © Marjorie Shropshire
© Mark Hutchinson
Previous
Next
Photographs belong to the photographers who allow use for FNPS purposes only. Please contact the photographer for all other uses.
Scarlet Sage, Tropical Sage, Blood Sage
Lamiaceae (Labiatae)
Plant Specifics
Form:
Flower
Size:
2-6 ft tall by .5-2 ft wide
Life Span:
Annual
Flower Color:
Pink,red
Fruit Color:
Brown
Noted for:
Showy flowers
Landscaping
Recommended Uses:
Wildflower gardens and meadows.
Considerations:
Readily self-seeds and can be fairly aggressive.
Propagation:
Readily self-seeds, seeds can be easily collected by bagging the flowers once they start to wilt.
Availability:
Native nurseries, FNPS plant sales, Seed
Light:
Full Sun, Part Shade
Moisture Tolerance:

always floodedextremely dry

(Somewhat moist, no flooding ----- to ----- Very long very dry periods)
Moisture Tolerance:
Somewhat moist, no flooding ----- to ----- Very long very dry periods
Salt Water Flooding Tolerance:
Not salt tolerant of inundation by salty or brackish water.
Salt Spray/ Salty Soil Tolerance:
Some tolerance to salty wind but not direct salt spray.
Soil or other substrate:
Sand
Soil pH:
5.5 to 7.5
Ecology
Wildlife:

Attracts hummingbirds, nut-hatches, and warblers.

Insects:

Attracts butterflies, bumblebees, and other pollinators.

Native Habitats:
Disturbed sites, calcareous bluffs, shell mounds.
Distribution and Planting Zones
Natural Range in Florida
USDA Zones
Suitable to grow in:
10A 10B 11 8A 8B 9A 9B
USDA zones are based on minimum winter temperatures
Comments
| | | |
| --- | --- | --- |
| Ethnobotany: | Reports on edibility of this plant are conflicting...and there is potential to confuse this native with other red-flowered Salvia species. People have reported getting a severe stomach ache from consuming a concentrated extract from the flower. Others have suggested that the leaves can be dried and used instead of the imported sages. Both the leaves and flowers have a slightly sour minty taste and have been used in salads or as garnish. Just remember, what you eat is your own responsibility.... | |
| General Comments: | In mild areas, plants sometimes persist through the winter and will bloom again. They need to be cut way back or they will not be attractive. | |