© Shirley Denton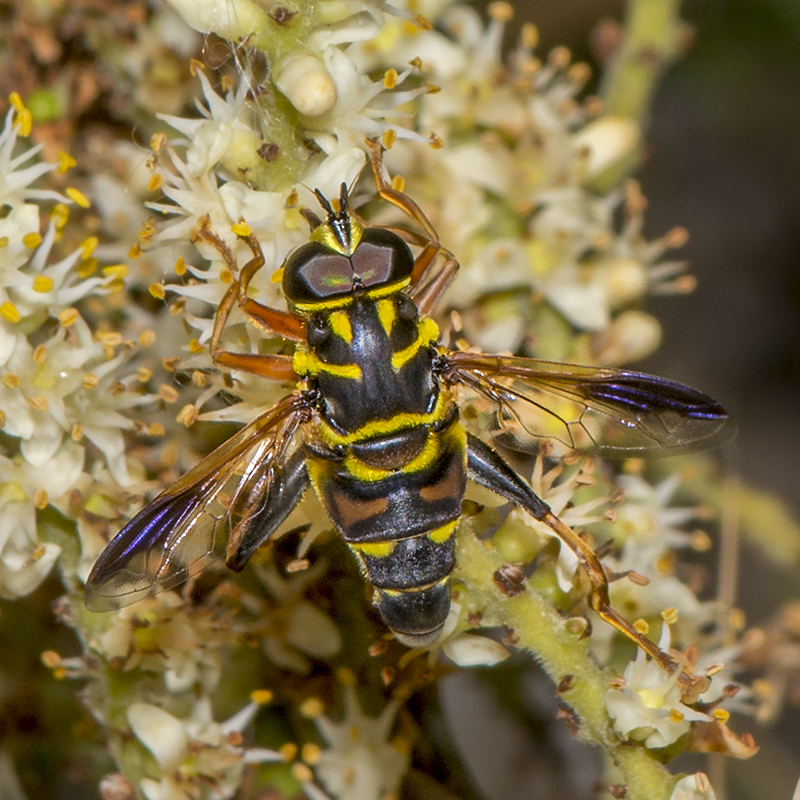 Meromacrus acutus on saw palmetto © John Lampkin
© unattributed
© Marjorie Shropshire
© Shirley Denton
© Shirley Denton
© Shirley Denton
© Shirley Denton
Previous
Next
Photographs belong to the photographers who allow use for FNPS purposes only. Please contact the photographer for all other uses.
Find This Plant at a Native Nursery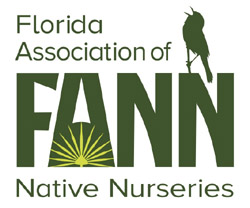 Learn More About Plant Status in FL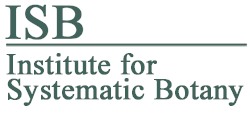 Can save as 500x500px image
Saw Palmetto
Arecaceae (Palmae)
Plant Specifics
Form:
Shrub
Size:
Typically 3-8 (15) ft tall by 4-6 (10) ft wide
Life Span:
Long-lived perennial
Flower Color:
White
Fruit Color:
Black
Phenology:
Evergreen. Blooms spring and summer. Slow growing. Individual stems may be over 100 yrs. Clone forming. Clones may be thousands of years old.
Noted for:
Showy flowers, Interesting foliage, Thorns, Hurricane wind resistance
Landscaping
Recommended Uses:
Adaptive to many landscape uses: specimen plant, mass plantings, naturalistic settings.
Considerations:
Be sure to plan for enough room for this spreading plant.
Propagation:
Seed and fragments of rhisomes. Most nursery stock is established from rhisomes as seeds are slow to sprout and initial growth is slow. Once established, rate of growth depends on variety (silver & green), soil and management. Silver saw palmettos can have rapid growth while green palmettos grown in low nutriet, dry sands can be very slow growing.
Availability:
Native nurseries, FNPS plant sales, Seed
Light:
Full Sun, Part Shade
Moisture Tolerance:

always floodedextremely dry

(Usually moist, occasional inundation ----- to ----- Very long very dry periods)
Moisture Tolerance:
Usually moist, occasional inundation ----- to ----- Very long very dry periods
Salt Water Flooding Tolerance:
Tolerant of occasional/brief inundation such as can occur in storm surges.
Salt Spray/ Salty Soil Tolerance:
Moderate. Tolerant of salty wind and may get some salt spray. Exposure to salt spray would be uncommon (major storms).
Soil or other substrate:
Loam, Sand
Soil pH:
Acidic to neutral
Ecology
Wildlife:

Palmetto berries are important bear food.

More than 100 bird species, 27 mammals, 25 amphibians, 61 reptiles, and countless insects use it as food and/or cover (Maehr and Layne 1996).

As Maehr and Layne summarize, " If saw palmetto is not the plant species most highly used by Florida wildlife, it certainly is in close contention for that honor."

Insects:

Larval host plant for monk skipper (Asbolis capucinus) and palmetto skipper (Euphyes arpa) butterflies.

Nectar plant for Bartram's scrub-hairstreak (Strymon acis), atala (Eumaes atala) and other butterflies.

Documented bees visiting the plant include Colletes banksi, C. brimleyi, C. mandibularis, C. rzudus, Colletes sp. A, Hylaeus graenicheri, Agaposternon splendens, Augochlora pura, Augochlorella aurata, Augochloropsis metallica, A. sumptuosa, Dialictus miniatulus, D. nymphalis, D. placidensis, D. tegularis, Evylaeus pectoralis, Halictus ligatus, Sphecodes heraclei, Coelioxys sayi, Dianthidium. floridiense, Megachile policaris, M. xylocopoides, Epeolus erigeronis, E. glabratus, E. zonatus, Apis mellifera, Bombus impatiens, B. pennsylvanicus, and Xylocopa virginica krombeini (Deyrup et al. 2002). Another study documented 311 species of flower visitors including 121 species of bees, 117 species of flies, and 52 species of beetles (Deyrup and Deyrup 2012).

Saw palmetto also attracts Syrphid flies including the flower fly, Meromacrus acutus, which apparently is a saw palmetto specialist (John Lampkin, 2019)

Native Habitats:
Mesic flatwoods, wet flatwoods, dry flatwoods, scrubby flatwoods, scrub, hardwood hammock. Generally absent from cleared sites even after abandonment.
Distribution and Planting Zones
Natural Range in Florida
USDA Zones
Suitable to grow in:
10A 10B 11 8A 8B 9A 9B
USDA zones are based on minimum winter temperatures
Comments
Ethnobotany:
The fan-shaped leaves have been widely used for thatch roofing and have been used for baskets and mats.
General Comments:

There are two color morphs: green and silver. Silver is associated with the east coast, but may occur anywhere within the range. It is typically larger and faster growing than the green morph.

Saw palmetto is exceedingly important to the fire ecology of Florida. Keeping saw palmetto dominated woodlands burned is essential both for ecology and safety. Overgrown saw palmetto thickets are severe fire hazards associated with catastrophic firestorms during dry windy weather. Tall palmetto understories can carry fires into the overstory and kill mature trees (Sackett 1975; Hough and Albini 1978. exerpted from Duever, 2011).

Saw palmetto is frequently clonal. A clone is a group of plants that are genetically identical as it is formed by the spreading of underground stems which produce new visible genetic "twins" called ramets. For saw palmetto, the group of individuals that make of the clone may continue to spread for thousands of years, though the underground connections break with time. Clones can become quite large, and it takes genetic studies to definitively map an idividual clone. One such study found that in a 20x20m (approximately 66x66ft) study plot, based on modeled rates of spread, the oldest of their clones was likely over 5,500 years old. The researchers concluded that other clones (not studied) might exceed 10,000 years in age. Individual plants do not live to such ripe old ages, and individual plants can grow fairly quickly (Takahashi, et al. 2011).